Our Galactic Globe Lamp embodies the wonders of deep space, and, with over 16 different color tones, you have complete control over your experience!
These 3D-printed lamps are meticulously crafted by our world-class design team using only the highest quality NASA satellite images.
Our state-of-the-art technology guarantees ultra-realistic design accuracy; each lamp takes an incredible 26 hours to 3D print. 
16 Color Tones All in One Lamp

Each Galactic Globe Lamp can be adjusted to any color of your choosing, including a slow, soothing fade from color to color. The lamp comes with a remote which can be used to adjust the lamp's brightness and toggle easily through all 16 colors!
You can also tap the lamp to change colors. More information is included in the instruction manual that comes with your purchase.
See the diagram of the remote below for controls: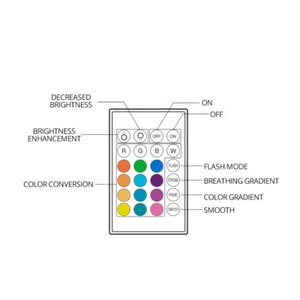 Pick Your Perfect Size
Our Galactic Globe Lamps come in three sizes:
Our small lamp, at 3in/8cm in diameter, is roughly the size of a tennis ball
Our medium lamp, at 6in/15cm in diameter, is roughly the size of a volleyball
Our large lamp, at 8in/20cm in diameter, is roughly the size of a soccer ball
The Perfect Gift
Our Galactic Globe Lamps make for the perfect gifts for any space lover. Transform any room into an ambient planetarium with this soothing and enchanting piece of art.
Order Includes:
1x Wireless 3D Galactic Globe Lamp
1x Charging Cable
1x Wooden Base
1x Remote
1x Instruction Manual
Specifications:
Power Source: Rechargeable Battery

Light Source: LED Bulbs(included)

Power Generation: Touch/Remote

Body Material: 

Polyvinyl chloride

Wattage: 0-5W

Voltage: 5V

Battery Type: Lithium-Ion

Premium wooden stand, charger, and remote included
Shipping:

For shoppers in the United States, enjoy FREE SHIPPING; please allow 0-2 days for us to process your order and 1-3 days to ship it. For international orders, please allow 2-3 weeks for delivery.
Excellent
Excellent, just as pics, my kid loves this!
Recommend!
Fast delivery. It comes already charged and with a batery in the remote control, as soon as you recieve it you can use it. I would definitely recomend this lamp.
Without the backlight turned on, it looks OK, but with it turned on the lamp becomes incredibly beautiful.